Hot Line:400-0530-636
Tel:+86-530-7355311
E-mail:zhangteng@c-jsec.com
heguowaimao@163.com
Fax:+86-530-7355311
Add:Heze City, Shandong Province, China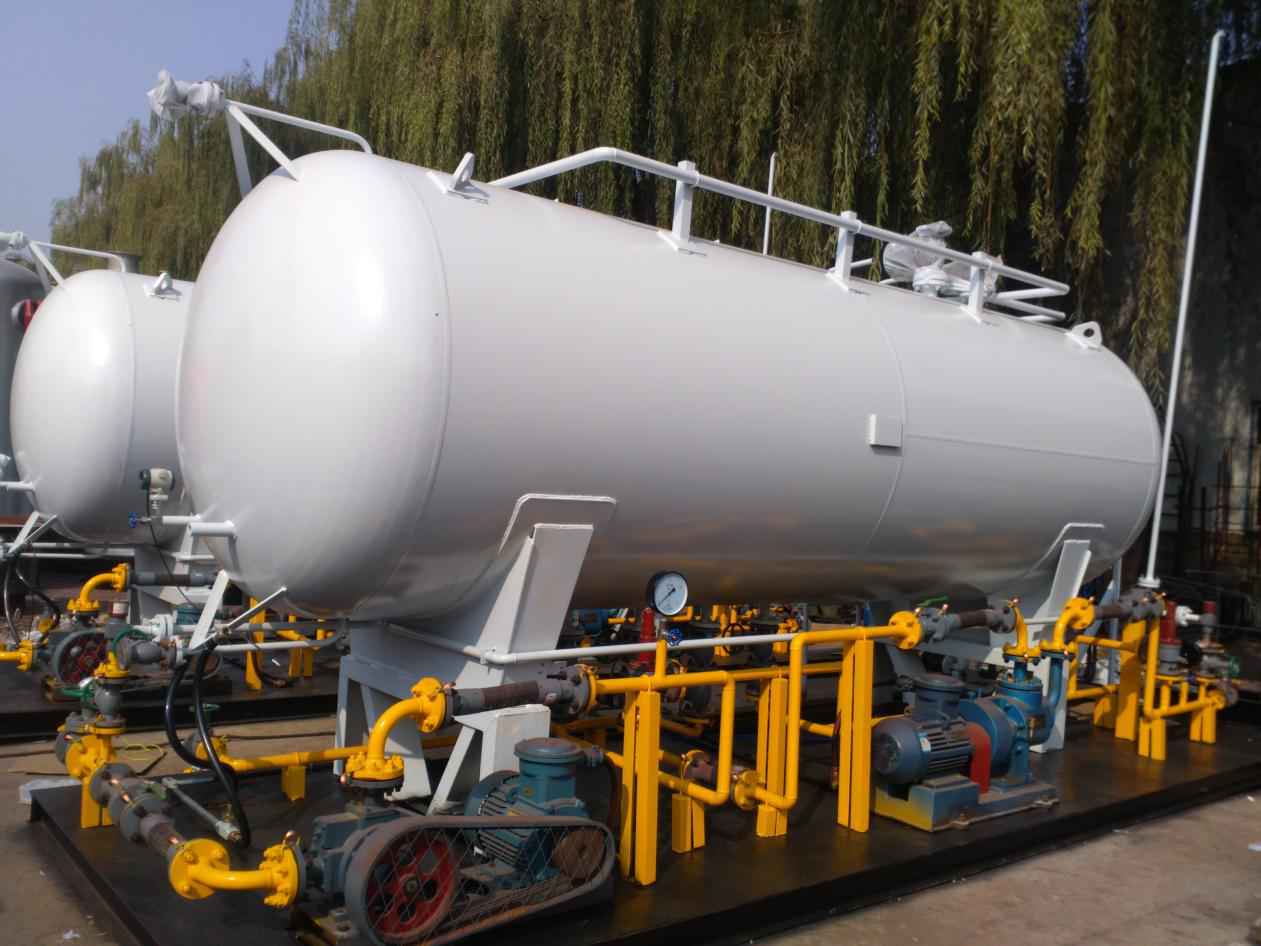 Skid-mounted LPG stations is constructed according to relevant standards. Integrate single device (such as tanks, pumps, valves, piping,etc.) to the metal skid body and formed a complete small LPG stations. The device's cost is low, footprint is small,and it"s easy to operate, mobile flexibly, construction period is short, and many other advantages.After user's usage and continuous improvement, the processes and structure are very mature and perfect.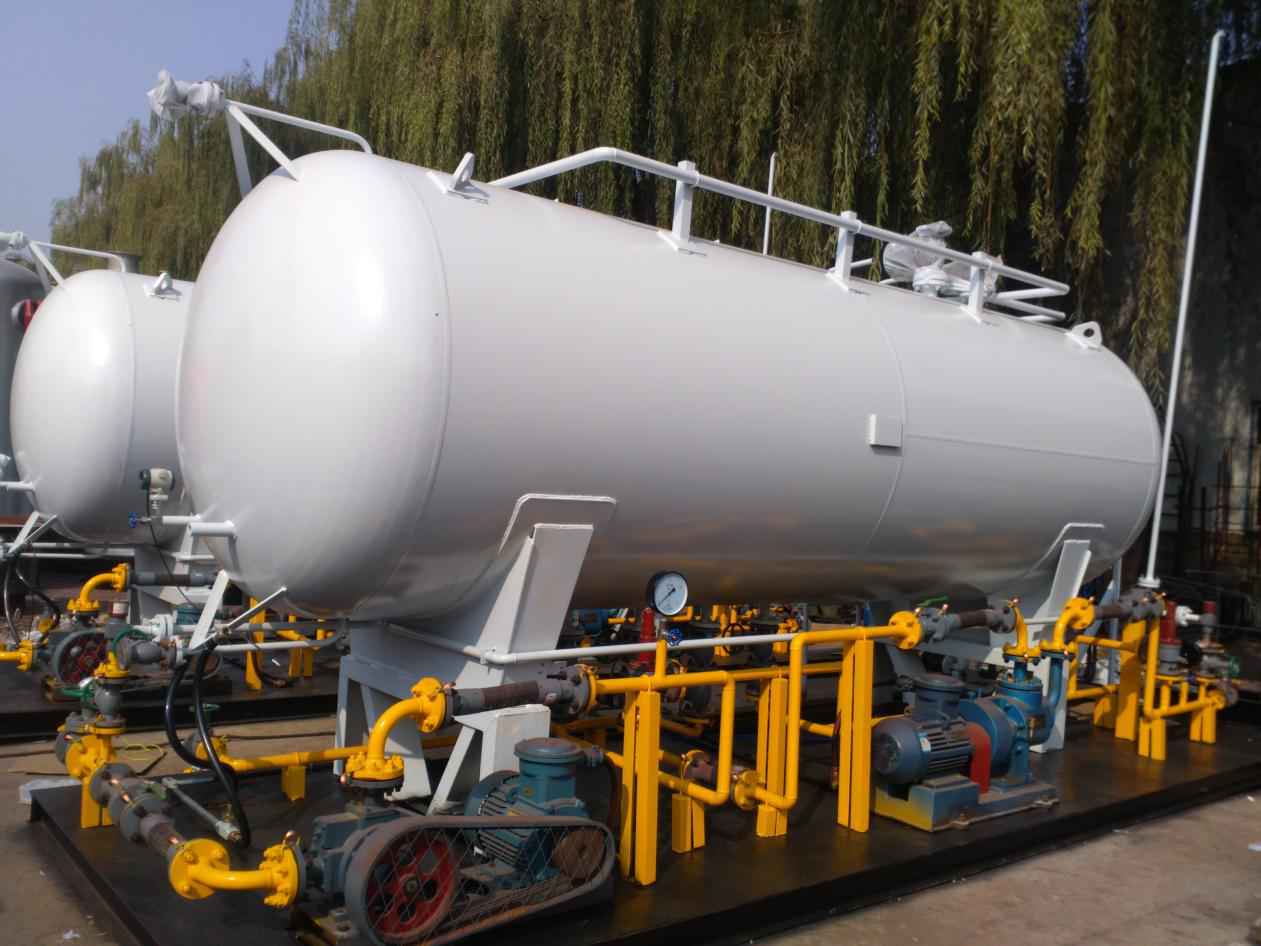 Product Description
LPG Skid Station is our company integrates single-running products (such as storage tanks, pumps, valves, pipes, etc.) on the metal base to form a skid-mounted complete set of equipment according to the market demand.
LPG Skid Station products can be divided into gasification pressure regulating skid-mounted, cylinder filling skid-mounted, automobile gas skid-mounted and comprehensive skid-mounted according to their functions. It can be used for different functions such as fuel gas peak shaving, gas supply in pipe network or gas unit, gas cylinder filling, LPG vehicle filling etc., fully address the needs of various industrial and civil LPG utilization projects.
The description is as follows:
1. Skid LPG gasification pressure regulation
The gasification pressure regulation Skid-Mounted is consists of LPG storage tank, unloading device, gasification device and pressure regulating device. LPG liquid is transported by road or railway from the source to the place where the product is used. The unloading is completed by the unloading device of this product, and the LPG liquid is leading into the product storage tank by the transport tanker to realize fixed-point quantitative storage of LPG; The LPG liquid is transported into the gasification device to complete the liquid to gaseous transformation in the gasification device and control the temperature of gaseous petroleum gas with optimized combustion. The gaseous petroleum gas is transported to the pressure regulating device for adjust the pressure to the required pressure value for the gas consumption unit when them meet the temperature qualification and then sent to the downstream gas pipeline network or gas unit. The pressure regulating device adopts a self-operated pressure regulating valve group, which does not require manual operation, and is equipped with two-way pressure regulation to realize gas maintenance without stopping maintenance.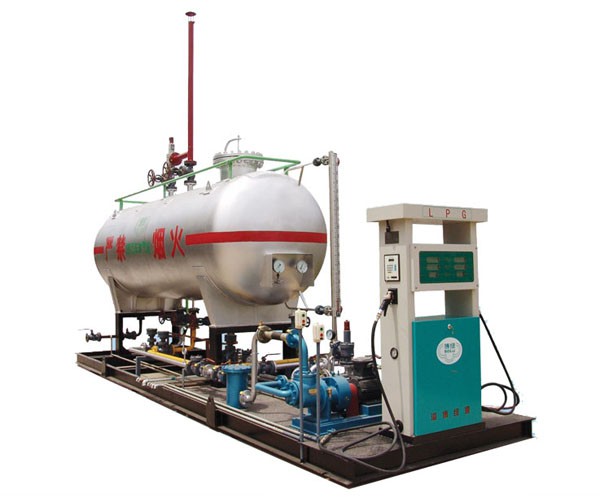 2. LPG cylinder filling Station / LPG vehicle filling Station
The cylinder filling/vehicle filling skid-mounted station is consists of LPG storage tank, unloading device, filling device and gas filling device. The fixed-point quantitative storage of LPG is realized by the same process as the gasification pressure regulating skid-mounted; The LPG liquid is transported to filling platform by gas hydrocarbon pump, and cylinder filling is realized by filling electronic scale when filling cylinders; The LPG liquid is transported to the filler by gas hydrocarbon pump to realize automobile filling gas when filling vehicle.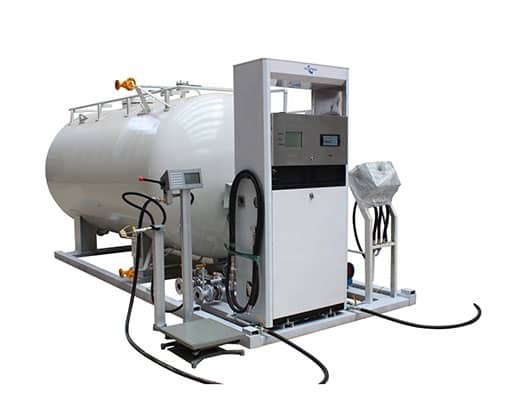 3. Product features:
LPG cylinder filling, LPG vehicle filling and other civil gas projects integrated integrated solutions, highly integrated modular, it integrates unloading, storage, transportation, packing, filling, security and other functions.
The pipeline layout is reasonable, the operation and maintenance are safe and convenient, the transportation are convenient, the limited space is saved, and the on-site installation and construction requirements are exempted.
Our LPG Skid Station products can provide customers with the most convenient product integration solution according to the actual needs of customers, special design, professional technology and specific service.
4. LPG Skid Station Specification
Item

Parameter

Specification

LPG TANK

Capacity available

5cbm to 50cbm capacity

Design Pressure

1.77MPa

Working Pressure

1.63MPa

Max. allowance working pressure

1.82MPa

Material

Q345R Carbon Steel

LPG Tank Type

Ground Horizontal LPG Tank

Heat Treatment

Post welded heat treatment for whole lpg tank

Design, Manufacturing and Test Standards

① TSG 21-2016《Fixed pressure vessels safety and technical supervision regulation》

② NB/T 47042-2014 《horizontal pressure vessel》

③ NB/T47015-2011《welding specification for pressure vessels》

④JB/T47013-2015《Nondestructive Testing of Pressure equipment》

⑤GB/T30583-2014《pressure equipment heat treatment after welding procedures》

Design Code

ASME available

Pipeline System

Design Pressure

2.5MPa

Design Temperature

-20℃~+54℃

Opening pressure of process pipeline valve

2.2MPa

humidity

10~95%

Voltage supply

AC380/220 / 50HZ

Installation type

Ground LPG Gas Filling Station

Shandong Zhongjie Pressure Equipment Co., Ltd. highly focuses on green energy special equipment industry...
Hot Line:400-0530-636
Tel:+86-530-7355311
E-mail:zhangteng@c-jsec.com
Fax:+86-530-7355311
Add:Heze City, Shandong Province, China